MUKILTEO (Kamiak High School)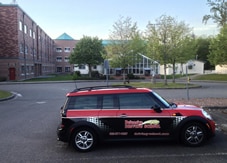 10801 Harbour Pointe Boulevard
Mukilteo, WA 98275
425-377-1837
LSoffice@driving-school.com
The Mukilteo driving school is located In Kamiak High School.
Teen course details (click here):
Provided in our classes: 34 hours of classroom, 5 hours of driving, and 1 hour student observation. Additional hours of observation (of another student's drive) are free and encouraged.
A parent information session will be held.
We strongly encourage a parent or guardian ride along on at least one driving lesson.
Minimum course length is 5 weeks and all classroom and driving requirements must be completed within 4 months (or extended with a fee). Students are allowed to miss and make up a maximum of 3 classes. Please keep extra-curricular activities and travel plans in mind before registering for a teen course to ensure proper attention can be given toward this course.
A driving permit is required before the first lesson. Students can get their permit up to 10 days before the start date of class.
Driving lessons are held outside of classroom meeting times and will extend beyond the end of the classroom portion of the course. Students and parents are encouraged to schedule lessons using our scheduling system, Schedule Agent.
Upon completion of the course, an electronic certificate will be reported to the Department of Licensing. This process takes up to 2 weeks.
Most of our communication is through email and cell phone notifications. When registering, please provide a regularly checked email address and cell phone numbers for both student and parent.
---
Mukilteo (Kamiak High School) TEEN CLASSES
Live classes available online through Zoom!
5/17/22 – 6/16/22, ONLINE, TWTh 3:30-5:45pm
5/31/22 – 6/30/22, ONLINE, TWTh 6:30-8:45pm
6/21/22 – 7/21/22, ONLINE, TWTh 9:30-11:45am
6/28/22 – 7/28/22, ONLINE, TWTh 12:30-2:45pm
7/5/22 – 8/4/22, ONLINE, TWTh 6:30-8:45pm
7/26/22 – 8/25/22, ONLINE, TWTh 9:30-11:45am
8/2/22 – 9/1/22, ONLINE, TWTH 12:30-2:45 PM
Click on "View More Info" for pricing and additional class information.
Loading...