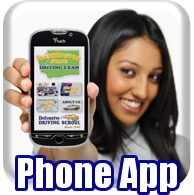 Refine your Washington State driving knowledge! Defensive Driving School has created a practice test for an older version of the Washington State written exam.
This app offers over 100 practice questions on road laws and defensive driving, plus links to valuable resources for any new driver. Available for download on the Android and Windows phones. Click the link below or search 'Defensive Driving School' in the app market search bar on your phone.
The "Online Practice Test" will take you directly to the DOL's practice test.